Real estate, construction and land law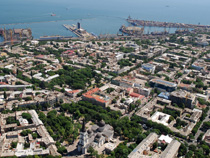 The market of the real estate in Odessa and in the Odessa region develops promptly and grace to the coastal position, in particular, remains in our opinion one of the most perspective in Ukraine.
Despite the temporary difficulties in economic situation, demand in the real estate market remains high enough, providing occurrence of new attractive kinds of the commercial real estate, growth of scales of developer projects, increase of their quality.
Developer projects realisation profitability considerably exceeds world or European showing that induces large players to an independent performance at the market or to acquisition of shares in the developer companies.
Experts of the LC "Jubicon" provide complex legal support of civil-engineering designs which concern separate objects of the real estate and the integral property objects. It is assumed not only working out creating of methods of registration of building, but also legal problems solving which could occur during building process. Legal support includes all aspects of setting objects into exploitation, registration of ownership (including in favour of foreign persons), creation and documentary registration of complex schemes of exploitation of constructions. The complex approach to support of building projects provides optimum result for clients.
Experts of the LC "Jubicon" have wide experience in consultation of clients on all questions connected with the real estate, including registration of land tenure for complex cottage building, residential building, building and reconstruction of industrial objects, legal support for setting into exploitation of building objects.
We also render legal services to investors and firms-builders; we work with traditional financial instruments for acquisition and real estate building, in particular in mortgage lending sphere.
Supporting the real estate or building projects experts of the LC "Jubicon" aspire to provide for the client the maximum economic benefit and maximum predictability of possible legal risks.